Tomorrow my friend Sarah and I are throwing a BBQ. So we spent last night prepping all our food. I made vegetable kabobs with tri-tip steak marinated in a Caribbean jerk sauce.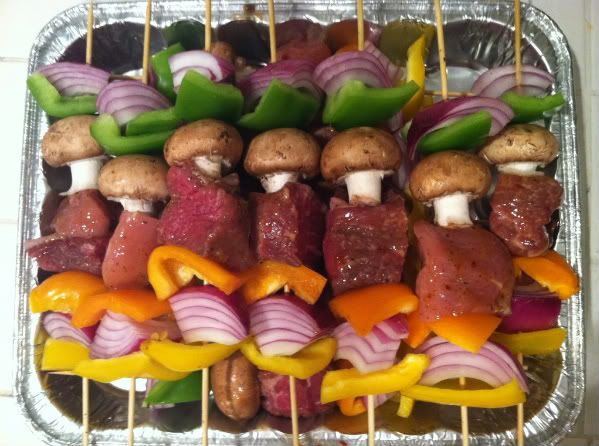 I also made my moms delicious potato salad that has NO MAYO (everyone knows how much I hate mayo).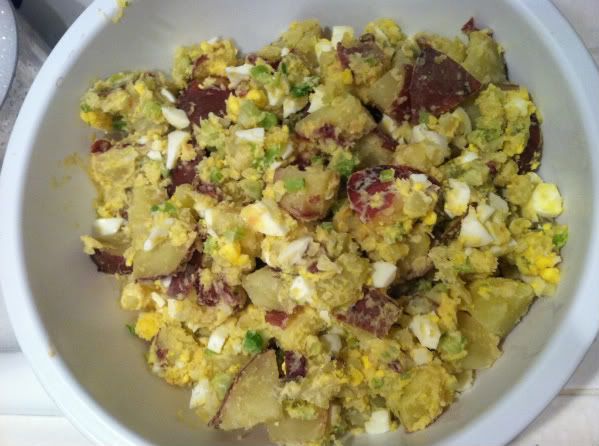 Potato Salad Recipe:
1. 3lb bag of red potatoes (un-skinned)
2. green onions
3. celery
4. 6 hard boiled eggs
5. yellow mustard
6. sandwich spread
7. salt/pepper
Step one:
cut all red potatoes into bite size cubes. Boil potatoes until they are just soft enough to put a fork through. Strain.
Step two:
boil your 6 eggs, so they are ready and cooled to be cut.
Step three:
cut up green onions and celery finely.
Step four:
take strained potatoes, add about 2 spoonfuls of sandwich spread (you just need enough to lightly cover the potatoes).
Step five:
cut up your chilled boiled eggs into bite size.
Step six:
add your eggs, celery, and green onions to potatoes. Stir.
Step seven:
add yellow mustard (this varies on taste) put as much as you think your potato salad needs.
Step eight:
top off with some salt and pepper and you are finished!
I have been busy this past week, cramming in as many hours at work as I possibly can before I visit back home for a month. Next week we leave, still havent packed, or got the house cleaned. My friend is visiting next weekend right before we leave, she is moving out here in a month or so, so im helping with apartment hunting. OH and I some how have to squeeze getting my car serviced before lover face and I leave. GAH!
Have a great day! I am off to work.
xoxo,
-Meggs